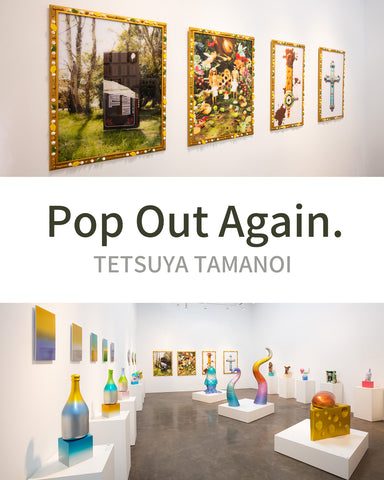 Tetsuya Tamanoi
2021/05/1 - 2021/06/26
Born in 1970, Tetsuya Tamanoi belongs to the so-called "MTV generation".
In addition to being a contemporary artist, he also has a studio where he designs filming sets and creates sculptures.
While Tamanoi was strongly influenced by Japanese pop culture as with others from this generation, he has also been fascinated by the West Coast culture in the U.S.
A wide range of excellent entertainment content can be found in Japan, including many comics that have been adapted into Hollywood movies and TV anime series that have been exported to Europe since the 1980s.
Let's not forget Godzilla and other special effects movies produced by Toho, a major Japanese studio that has leased its sound stages to Netflix, as well as the chivalry film series of Toei that Tarantino adored.
Countless figurines inspired by these movies have been released, and even today, there are many fans of monster figurines around the world. Tamanoi's works make use of a special coating method and polyester resin to replicate the shapes of these figurines. He has also created new forms of expression by harnessing gradations that are used in ukiyo-e prints.
Tamanoi's idea of art is to embellish these Japanese brands with a distinctly Western style.
Please visit the physical or online gallery to enjoy all 31 works featured in this exhibition, including four new works and three-dimensional works by the artist.
Atsushi Fukuda (Owner and curator of Speedy Gallery, Inc.) 
Tetsuya Tamanoi
Tamanoi was born in 1970. After working at an agricultural cooperative, a company selling Buddist accessories, and owning a dance club, he started becoming involved in sculpture, artistic design, and model production in 2000.
He launched his career as a contemporary artist in 2008.
– Solo exhibitions
2009: "A Dreamless Afternoon" (MORI YU GALLERY TOKYO)
2012: "Relics of an Imaginary World, Vol. 1" (MORI YU GALLERY TOKYO)
– Commissioned works
2009: "The Brigade Hermèstsch" (Window display at MAISON HERMÈS, Tokyo)
Courtesy by Hermès
---
---