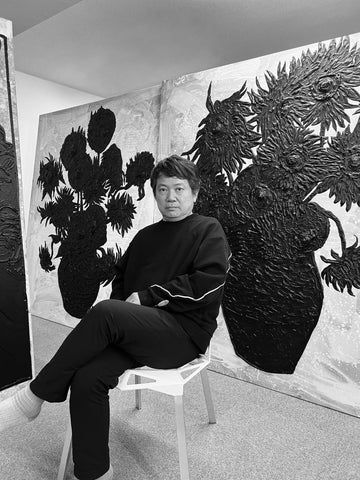 Embark on a captivating artistic journey with Hiro Sugiyama, a master who seamlessly blends analog and digital realms.
With a rich history in art spanning decades, he astounded the world with his digital masterpieces at the groundbreaking "2-Delight" exhibition in 2000. Portraits of icons like Brad Pitt, Thom Yorke, and Karl Lagerfeld left audiences mesmerized.
In 2001, he participated in the "Superflat" exhibition curated by Takashi Murakami at LA's MOCA. He unveiled massive portrait works of Formula One racer Ayrton Senna and Karen Carpenter. An art book titled "2-Delight," published simultaneously with the exhibition, caught the attention of Jeffrey Deitch in New York, leading to a solo exhibition at the Deitch Projects NY. However, following the events of 9/11, the exhibition was canceled. Despite the cancellation of a solo exhibition, Hiro Sugiyama continued to participate in global exhibitions in London, NY, Shanghai and more.
Since 2010s , he returned to analog paintings. In 2020, he unveiled a magnum opus, "[Drawing Leads to Another Dimension]," a captivating collection featuring an astounding 1,600 artworks. His innovative "Black Paint Series" in 2021 turned famous paintings into striking silhouettes. In 2022, he showcased his monochromatic marvels at Lurf Museum, Tokyo, in the "Monochrome Colors" exhibition. Immerse yourself in his spellbinding creations, each brushstroke and pixel telling a tale of boundless creativity and artistic evolution.
---