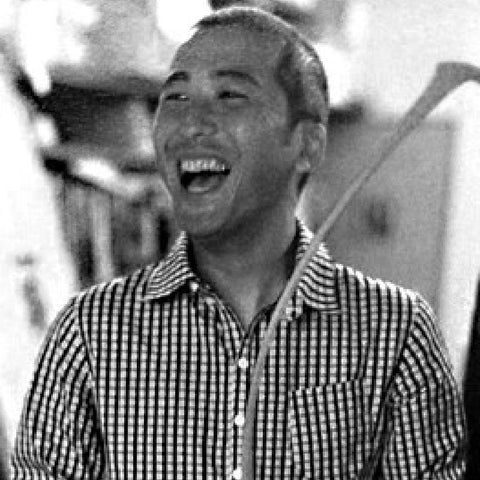 Born in 1970.
After working as a staff member at Japan Agricultural Cooperatives (JA),a salesman at a Buddhist altar company, and a club owner, in 2000, Tamanoi started making figures for use in advertisements and commercials.
In 2008, he began making these figures as contemporary art pieces.
Solo Exhibitions:
2009: "Afternoon without Dreaming…" MORI YU GALLERY TOKYO
2009: "Afternoon without Dreaming…" MORI YU GALLERY KYOTO
2012: "Imaginary World Heritage vol. 1" MORI YU GALLERY TOKYO 
Commission Work:
"The Brigade Hermèstsch" GINZA MAISON HERMÈS Window Display, Tokyo
Things from Beyond the Sea
Tetsuya Tamanoi
2019/11/15〜2019/12/23
Born in 1970, my generation was inspired by 90's pop culture and we had a longing for Western influence. At the same time, I was greatly impacted by the monster culture in Japan. Godzilla, in particular, was my first favorite hero. In recent years, this monster has been featured in many movies in Hollywood. Japanese television, at the time, was showing a lot of foreign programs like MTV and Hollywood movies featuring special effects, science fiction and fantasy. This aesthetics were unconsciously formed within me. I was heavily influenced by Western Culture. Entering the 21 century, Western producers such as Tarantino, took interest in World War II and Japanese culture. I felt lucky to be able to experience both cultures.

My current career as a set designer, in addition to art production, sets designs for photography, and installations, featuring this influence of everything I saw in Hollywood movies, from set design to colors and interiors.
This exhibition in LA holds a place close to my heart and will be a self-expression of California and Hollywood that I have absorbed throughout my years.
Gradation & Bokashi Series
The gradation style is based on traditional Japanese ukiyo-e woodblock prints. Ukiyo-e uses bokashi which translated to "blurring." Gradation & Bokashi Series also incorporates the candy color technique that has been established as a custom car painting method in the United States.
After the success of Japanese monster movies, or kaiju eiga, toys made of PVC were in high demand. Also, the concept of villain verses hero is loved by movie geeks inspired by the material and ideas from the movie. These artistic methods have been incorporated into my works for this exhibition.
Crumpled & Drip Series
This series is modeled on the simple technique of what children learn to do-hang, cut, paste, cut and crush. These sculptures that are finished with a crumpled look, with the other works that look like dripping paint, are influenced by pop artists such as Claes Oldenburg and Robert Rauschenberg.
Japan is an island surrounded by water, thus alienating us from the rest of the world. Perhaps this is the mystery behind "Things from Beyond the Sea" that captivates me. I hope you can explore the excitement of this bridge of cultures between Tokyo and LA.

"Things from Beyond the Sea" by Tetsuya Tamanoi
Opening party: November 15th, 2019 6pm to 8pm
Exhibition : November 15th-December 23rd, 2019
Place: 2146 Sacramento St.
Los Angeles, CA
---
---