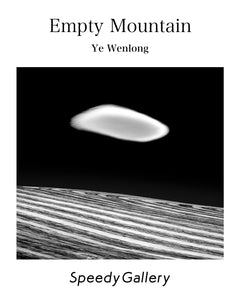 Speedy Gallery is pleased to announce our new from March 5 to March 26, 2022.   "Empty Mountain" by Ye Wenlong Curated by Yiwei Lu   Ye's style of Chinese landscape photography, draws on the tradition of Chinese "Shanshui" landscape paintings, translating directly to "the paintings of mountain and water." During the Sixth Dynasty Period (220-589AD) when the Chinese people lived in constant war, nature was the best escape and as a result landscape paintings began to emerge as the symbol of a peaceful life. A good Shanshui painting contains what is referred to as "Yi Jing," "Yi" being the...
---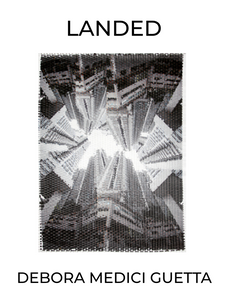 UNTIL JANUARY 22, 2022!  We are happy to present powerful art-photography works by , Debora Medici-Guetta, LA based art-photographer.  Just when you thought you saw it all, Debora Medici-Guetta's original "cut and weave" photography will blow your mind.  She captures the momentum of the city, then cuts into strips of memories and weaves it together to re-create a new image, just like today's world where people are re-discovering the new normal.    We hope you will enjoy her vision, the inspiration to our better tomorrow.     
---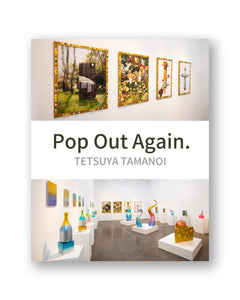 Finally!!  We are very happy to announce the drop of our favorite artist from Japan, Tetsuya Tamanoi's pop and colorful exhibition, "Pop Out Again" from May 1!  The lockdown in Los Angeles has subsided thanks to the vaccine, so we decided to hold our first exhibition this year! This year's exhibition will also showcase the results of the digital transformation of the gallery that we have been working on since last year.   1. Works by Tetsuya Tamanoi, colorful sculptures inspired by Japanese pop culture. http://speedyartgallery.com/ 2. Online viewing of a complete 3D reproduction of the gallery is also available...
---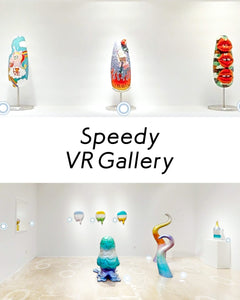 Speedy Gallery Inc.(California) is pleased to release the launch of a fully immersive online exhibition with V21 Artspace (London) who has created virtual exhibitions and galleries for some of the top galleries and museums all over the world such as Hauser & Wirth. The online gallery is available for viewing from November 1
st
, 2020.
---
• moekomaeda • onlineviewingroom • speedygallery • speedyshop • virtualgallery • vr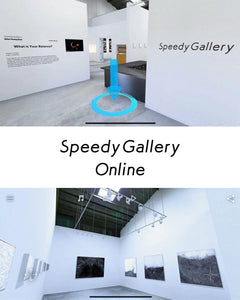 Speedy Gallery, Inc.(California) is pleased to release the launch of its first digitized exhibition with Online Viewing Room (New York) who has created virtual galleries for some of the top galleries and museums in the world such as Hauser and Wirth. The digitized exhibition is available for viewing from June 19th, 2020.  Speedy Group (HQ Tokyo Japan), has strategized to advance into more DX (digital transformation), post-coronavirus, by completely reproducing their art gallery in digital form.   All five exhibition rooms (2,400 sq. ft.) in Speedy Gallery, Santa Monica, where stay-at-home measures continue, were all carefully measured and created with...